door2door-deliveries has a policy of delivering a maximum of three items at any one time.
If we deliver your leaflet you won't find your item accompanies lots of others so it won't be overshadowed by other items and won't be up against direct competitors which in our experience frequently happens.
We often see leaflets folded one inside the other with maybe six, eight or even ten leaflets all put through the letterbox at the same time!
Frequently we see leaflets from companies who are in direct competition with each other, being delivered together!
It is a waste of money if a leaflet from a company selling window blinds arrives through the door with another leaflet from a different company selling window blinds, whether they are a national competitor or a rival from just down the road.
So if you come to www.door2door-deliveries.co.uk for a leaflet drop, magazine delivery, brochure delivery, catalogue delivery or sample delivery then you can rest assured that the product or service you offer and the message you want to put across is the only one of its type that the recipient will receive in that delivery.
We understand why businesses choose to be part of a multi-drop, shared delivery because it is cheaper but the savings aren't great.
But the reaction of many people who receive lots of leaflets all at the same time it is to pick them up and throw them all in the bin (hopefully the recycling bin). So your item doesn't even get looked at, never mind acted upon. You might as well not have bothered to pay for it to be designed, printed and delivered.
That's why a delivery by us is the much more likely delivery to bring results. It is more likely to be seen and acted upon because three's company - more's a crowd!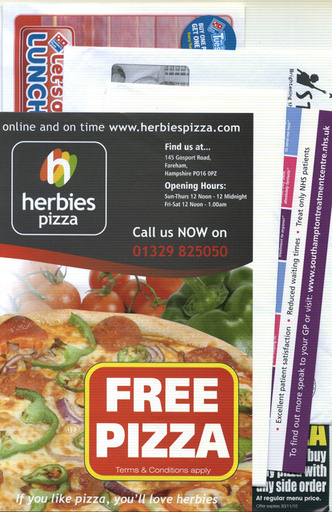 Pizza v Pizza, with other leaflets too! Two takeaways who are direct competitors have their leaflets delivered together. A total of five leaflets were included in this delivery - a single sheet and two sealed envelopes! A waste of money? You decide...